It might help to discern between two different aspects in the cross-tabulation discussion.
The first concerns the Map view only. What I'm suggesting at the beginning of my post is an extension of the functionality that was demonstrated in the video. In the video the Adornments arranged in a table structure with columns representing the venue and rows the time slots. The corresponding attributes of the note are modified and recorded as the notes are dragged in and out of the area of where the columns and rows intersect. In addition Smart Adornments have the ability to move notes within the current view matching their query onto the adornment. However this does not work for the case where two Smart Adornments overlap. To be consistent - if there is an area of overlap - notes matching the queries of both Smart Adornments should move to the area of overlap as this is the only place where both queries are satisfied (hence the red arrows in my diagram). From my perspective implementing this would already provide a rudimentary form of cross-tabulation if the Smart Adornments are arranged in a column-row format.
The second concerns a more general cross-tabulation functionality which may or may not be in Map view. I agree that the Attribute Browser view is powerful and can help summarise/explore the content of many notes. It could be my own shortcomings in the use of the mode but I cannot replicate the cross-tabulate functionality. I would be happy to be proven wrong on this point so I've generated a synthetic (fictitious computer generated) set of notes in a TB file for this community to explore. The file includes 100 notes with the attributes $Name, $Location and $Sales defined for each note. The $Name for each note is randomly selected from the set "Heathcliff", "Jack the Ripper", "Batman", "Gatsby", the locations are selected from "WillyWonkaFactory", "Gotham", "Bayport", "Harfang" and the $Sales is a random number between 1 and 10. I include a screenshot below to illustrate the file contents.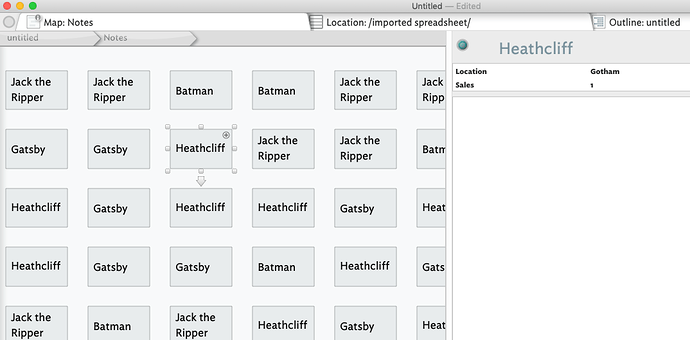 The challenge is the generate something along the lines of (forget the grand total line at the bottom)

within TB using for instance the Attribute Browser. I don't get much further than the following which includes a summary of the count of the number of notes by location. I cannot get for instance a summary of count for location and name at the same time.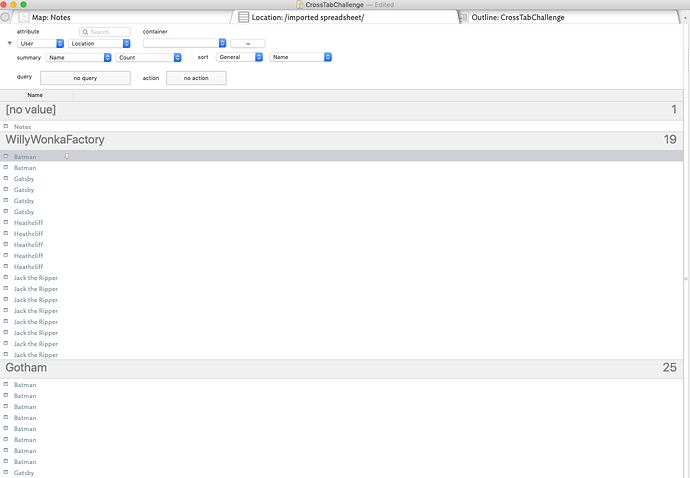 Here the link to the TB file: https://www.dropbox.com/s/qrcmdiuijjk82u8/CrossTabChallenge.tbx?dl=0