Hello everyone. It's been awhile since I've posted here but I have a question and wonder if anyone can help.
I have a large TBX file that I'm using to track required course objectives this semester in two different classes. I work in map view but link back to course objective notes from individual course items. My plan has been to use Hyperbolic view to then track from these objectives to the various course items through links labelled "preps," "teaches," "practices," etc. Importantly, the link networks for the two classes will never intersect, and in practice, each courses links clump into several, largely independent sub-networks.
The problem I've run into is that the focus note in hyperbolic view seems stuck: no matter what note I have selected in a view, when I switch to hyperbolic view the same note is always selected. This is annoying but in some cases I can navigate around the visible notes and find what I'm looking for and make it the focus, which redraws the link network the way I want. However, because there are notes that don't link to each other through any number of steps, I don't see anyway to reach them through hyperbolic view. I need to be able to select them in map view (or some other view) and have a hyperbolic view based upon them.
Does anyone have an idea what I'm doing wrong here?
And to show what I'm seeing, here's screen shot of a map view with the note "Review of Literary Elements" selected. I've also pulled up a text window and dragged off a link browser of the same note so you can see that there are both basic and in-text links for hyperbolic view to work from: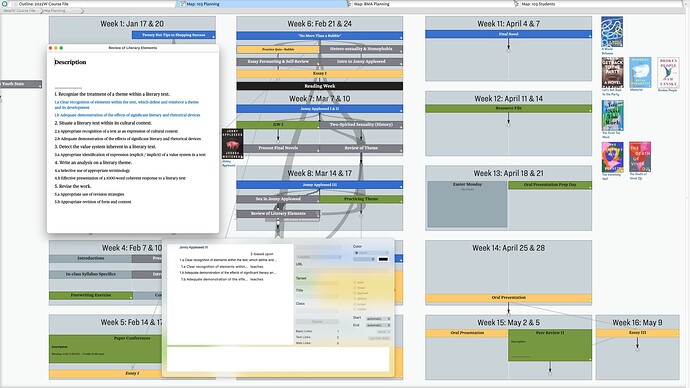 Here is what I get when I switch this map tab to hyperbolic view: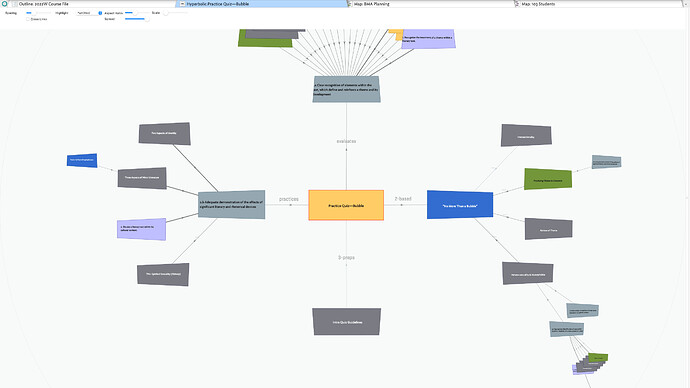 FWIW, it seems like each class's map tab has a separate "stuck" focus note.