Tinderbox Training Video - Annotating with Highlights App, Tinderbox, DEVONThink, and Zotero
| | |
| --- | --- |
| Level | Advanced |
| Published Date | 9/2/21 |
| Revision | 1 |
| Type | How To |
| Tags | 4CKMEl, 4Cs of Knowledge Management and Exchange, Annotations, DEVONThink, Highlights, Highlights App, Markdown, Quotes, Tinderbox, Zotero, aTbRef |
| Video Length | 14:30 |
| Video URL | https://youtu.be/b0B1JuW14-s |
| Example File | |
| TBX L - Highighting with Highlights App, Devonthing, Zotero and Tinderbox.tbx (288.8 KB) | |
and
TBX HighlightsAppAnnotations.txt.zip (1.4 KB)|
|TBX Version|9|
|Instructor|Michael Becker|
In this lesson, I show you how to make annotations in Highlights App, export the annotations to Finder or DEVONThink in markdown, import the annotations into Tinderbox, and curate them. I also show you how to leverage Zotero for citation mapping.
I explain how I use four annotation colors (yellow, orange, red, and blue), strikethroughs, underlines, images, and personal notes to differentiate my annotations/highlights and capture my own ideas. I then show how, using Tinderbox prototypes and action code, I parse the annotations and can start making sense out of them.
Sidebar: Here is a link to the 4Cs of knowledge management article I reference, An end-to-end Professional, Academic, & Personal 4Cs of Knowledge Management Workflow.
NOTE: I'm still refining this process, please feel to reach out with you have any questions or suggestions on how to make it better. Also, I ran into a couple of issues that I need to speak to the Eastgate and Highlights team about. The Highlights app does not split the files when exporting to the finder, and I'm having trouble parsing the un-split file in Tinderbox. I'll update you once I've figured this out.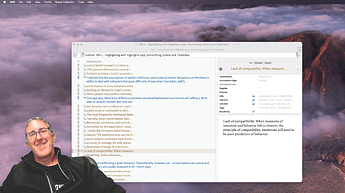 00:00 - Introduction
00:12 - Introduction to the 4Cs
00:57 - The Apps: Highlights, Tinderbox, etc.
03:07 - My use of DEVONThink
03:28 - Annotating in Highlights App
05:37 - Setting req. Highlights App preferences
06:12 - Export out of Highlights App to Finder
07:29 - Importing annotations into Tinderbox
09:40 - Prototype types and "The Stamp"
10:41 - Applying the Stamp
12:27 - Linking back to the PDF
12:37 - Linking to website
12:53 - Wrapping up
14:13 - Please be sure to like the video
14:16 - Don't forget to subscribe