Hi Folks,
I am designing my course for the semester, and I use a map that has adornments for each day. I add topics, readings, assignments, learning activities, etc. Using adornments lets me see everything at once, but I also need a space to plan the sequence of particular days, adding notes to capture minor activities for the day. (I often use an adornment with a time grid to assign sequence and duration to activities.) I used to just drag the notes from the Day adornment to a container for that day, then work within that container, arranging and adding the minor things.
It ends up looking like this: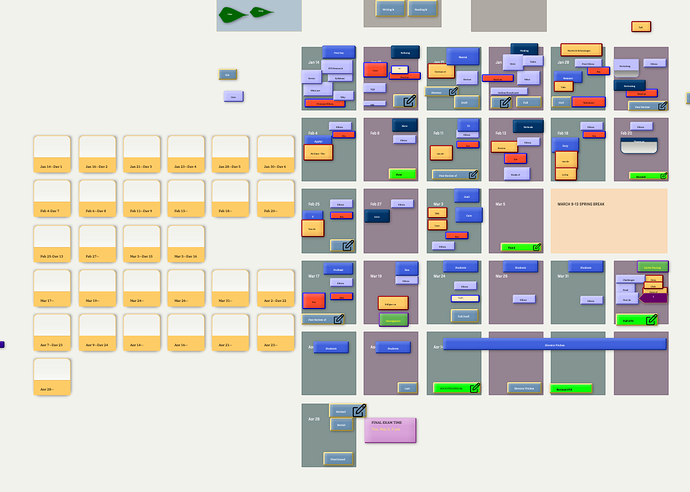 I was inspired by Mark's recent video to use smart adornments. I assigned the user attribute Day_#, and then I hoped to use Day_# to create aliases that could be sorted into containers that I could then use to plan each day individually. Naturally, an agent seemed best for this. So I created them. But. I realized that I could add an adornment (the time grid for the day) within the agent, but I could not add new notes for the minor activities. I would rather not have the minor, low-level stuff on the main set of adornments for the whole semester because it gets in the way of clearly perceiving what is going on (and what needs to be changed).
This is a simple representation of what I have.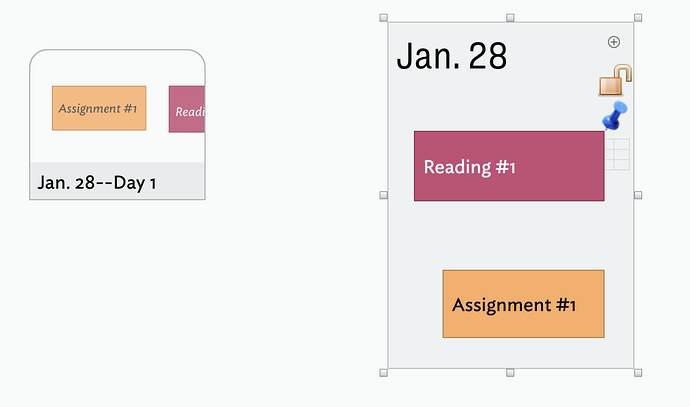 Is there some way around this problem? I thought about creating an alias within the agent that then might be transferred to a container for the specific day, but I wasn't sure how to stop the action from constantly creating new copies in that day container. Further, how do I handle the problem of moving, say, a reading, from one day to another? It works fine with agents, but …
Thanks as usual for your thoughts and for your goodwill.
Cheers,
Kent