Since a picture supposed to be worth a thousand words I include an conceptual illustration below of what I'm looking for.
I use TinderBox a lot for meeting notes was well as for notes to help keep track of projects which range from studies, publications through to large satellite projects. Each project as a rule will have it's own container to store the notes relevant to the project.
On the other hand if I'm meeting with my team we cover many projects in the same meeting, essentially updating each other on recent developments and next steps. My challenge is then to map the material from my team meeting to the projects so that next time I consult my project container I can also get a summary of recent inputs from my team meeting. As an order of magnitude I have perhaps 30 projects on-going at the same time.
Here I've found zip links very useful. All I need to know is the project name (or rough idea of the name) and I can directly link the paragraph in my meeting notes through a text link to an equivalent entry in the project container. It's fast, efficient (no jumping around windows, just pure keyboard and text).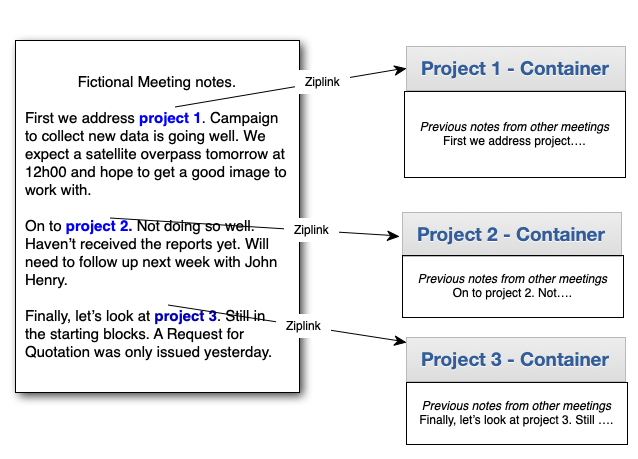 So for so good. It's already a good solution. What I'm looking for is some way of copying/replicating the paragraph from my meeting notes to the $Text of the project container (perhaps also with some filtering - say the 10 most recent notes) so that when I jump to that container I have a written overview of what was said about this project during the meetings.
I don't think this is possible currently as I see no action code to retrieve the text location of the zip link. This could be a feature request if there is a wider resonance in the community and/or there may be alternatives that you can suggest.