Thanks to helpful reports by community members, it is clear that simply translating whole pages via Google Translate (GT) is not as helpful as hoped. In investigating this is also shows that whilst GT ostensibly supports word or HTML element 'no translate' markers, it struggles to render the result. So if the resulting visual render is garbage, that's little help to the reader. Still, we are all paying $0 for the service so we can't complain too much. It's a reminder that computers don't understand human-written language. Translation is a probability-based best-guess: impressive, but all to often wrong.
But I can still do something to help non-English speaking users of aTbRef…
$NoTitleTranslate. I now (in the source TBX) have boolean for notes where translating $Name is not helpful. A good example is notes on action code operators or system attributes. Notes with this set true should not translate their titles: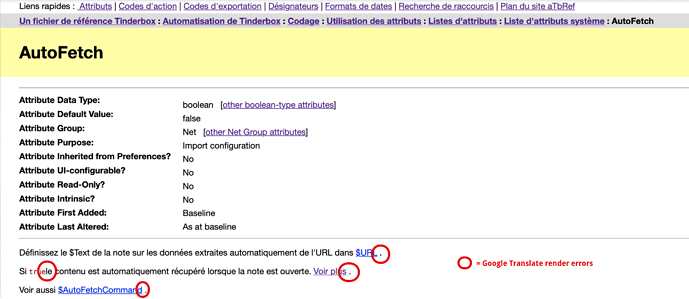 Interestingly, GT completely fails to translate the table in the table in the above grab. It is only asked not to translate the word 'Attribute' in the left column of the table. This shows how poorly the process understands what the human reader understands in a momentary glimpse. Still, what we get is free.
In the sitemap now doesn't translate quite a few note's title ($Name value).
Likewise a lot of the big listings of code & attributes don't translate items in the list as the aim is to find a note about $ChildCount rather than a listing using a translation of the name. In the app, ChildCount is the label used, not the translation. Having found the note about that attribute, hopefully GT translation will assist the reader in understanding what 'ChildCount' means in their chosen language.
Anyway, I hope this at least a little better than before and the changes are now live online. It is less comprehensive than I'd like but the service is free and, on digging deeper, GT has significant limitations in what it can do.
If you use the GT feature on aTbRef pages, or tried the feature and gave up, I'm interested to hear if the above improvements help. I can't improve issues of which I am ignorant.
With over >2k source notes making the website, word-by-word markup of source for translation is but a dream. But, if there are achievable things I can do to help those non-native-English users, I'd love to hear. What I'm striving for is to make the resource more accessible to those without strong english language knowledge.
HTH