Now that I'm writing much more in Tinderbox (rather than outlining or creating analyses) because of the great new text linking features, I'm fiddling a bit more with the text styling features.
I prefer "single spaced" text. This seems like the default in Tinderbox except there is more than a single space between paragraphs. I'd like to just have single spacing everywhere. It's possible to set this for each note using the text ruler: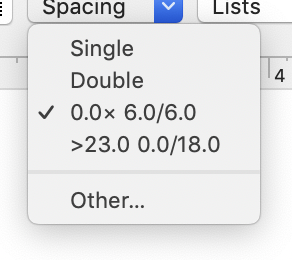 But how can I set this "single" as the default instead of the "0.0x 6.0/6.0"?
I tried setting "single" on my note prototype, but new notes reverted back to the other setting. And I think the $LineSpacing attribute doesn't control the "between paragraphs" line spacing setting.