TL;DR: is there code to reset all local values of a prototype?
---
Problem: I have changed the local values of many local values of a prototype. I've read Mark's excellent article here on attributes. In step 13.3 I learned that I could use "Inherited Value" by adding the attribute in this case $Color and $Width into a local note

and now I change use inherited value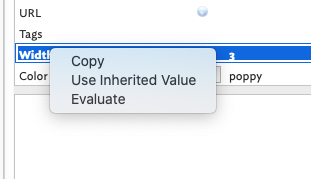 In order to do so I need to add the attribute to the note and right click. Does anyone have code or a for a faster method? I have changed width, length, color, and other things. If I had code I could stamp the notes or create an agent to find everything and clean things up.
In an effort to NOT over engineer from the beginning I'm testing out different attributes on local notes. Sometimes I want to add them to the prototype so all of the other notes would change.
Thank you
A related post: Reapplying prototypes