I have been a fan of this forum and tinderbox for some time! My use of this has always been for my own personal projects an I have learned a great deal along the way from this forum. I have been struggling over the past few weeks and wanted to reach out and ask for some help. I am sorry for the long introduction, but I wanted to share this to bring context to the problem and to express my gratitude to the group. I am an anesthesiologist in the midst of the COVID-19 pandemic. I have taken on a great deal and am trying to learn as much as I can about something we knew very little about before December. Out of luck or some intervention, as I worked through learning about this disease I thought about using Tinderbox to collect my notes. When I opened the forum, and saw the header Mark posted, I was taken aback by this! It made me realize we are all in this together and I am so grateful for any and all help from this group. I wanted to say thank you for thinking of those in need around the world.
Now for my question and request for help - I have not done much with respect to export of documents so at some point I will come back to needing to export the document that is created to share with others in the hospital. But first, here are some thoughts I would like some feedback on as I approach building a dashboard to track the patients and resources in our hospital.
I have not done much with formatting notes into tables, I have seen some people format dashboards and could use some help and ideas on how to do this.
I am thinking of having the following prototypes:
Patient
Staff
Following Collections:
Emergency Department
MICU
SICU
CTICU
4S
5S
So the first question I have is how to create a resource/capacity table where I can count current census, ICU, Ventilator use and remaining?
Thoughts on how to best use this to track the patients - ultimately, it would be something I would need to export in a daily or 2-3 times daily document for staff to use so I would need some help on how to best start this so the export is meaningful.
Sort of looking for something like these images: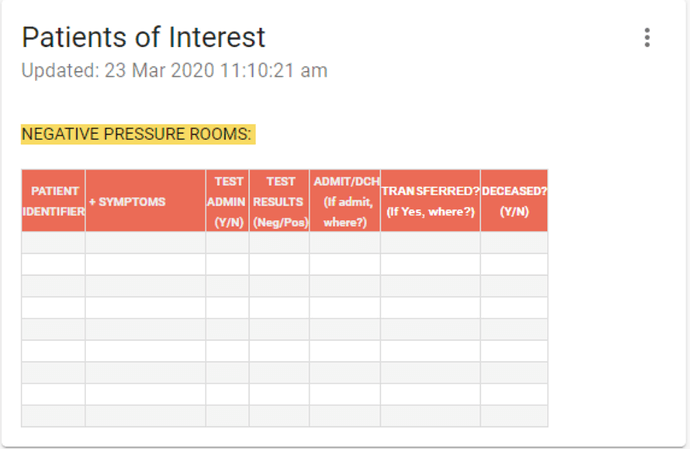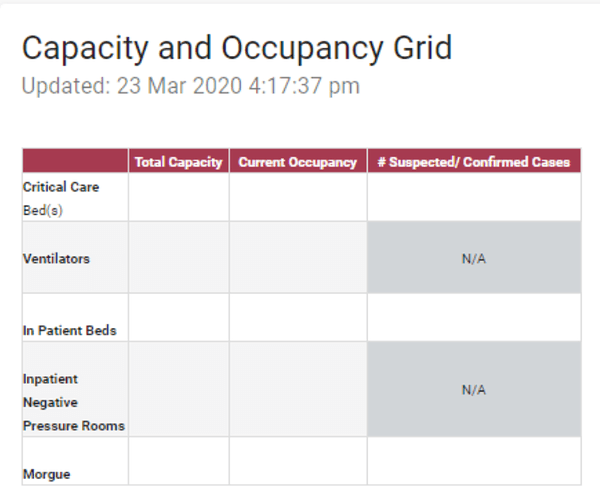 I was thinking of using a series of Adornments for the locations and setting actions that when a patient is dragged from one location to another, it would update their location. I am then thinking of using Agents to look for things such as Intubated (to keep a count of current ventilated patients), COVID test status, and other attributes that are important to track.
So in short, I am looking for any ideas and help on how to develop this document, which I think might become quite complex as I proceed. I think if I can get a handle on how to aggregate information into a table, I can start to work on laying this out.
I will ultimately need some help with exporting but I think it is too soon since I do not have a good idea of how to design the data. We can come back to this aspect later
Again I am thankful for any and all ideas on help on how to do something like this! Sorry for this being kind of nebulous right now, but I think this forum will have some ideas and insights that will be useful.
Thanks in advance.
Don