I've been playing around with Roam for the last few weeks and one thing that I really liked was starting having a daily note. Playing with Roam has given me a much deep appreciation for Tinderbox!
I created a test tbx that has the following:
a note for each day
an agent that finds the daily note.
daily note.tbx (523.3 KB)
Question #1: What's the best way to create a note for each day?
I created this manually by
copying all of the dates from 2020 from into a note
exploding the note note with a rule that made the $name, $myDate
It only took 5 minutes, but I'm wondering if there is a better approach.
Question #2: Link to all of the daily notes from an index page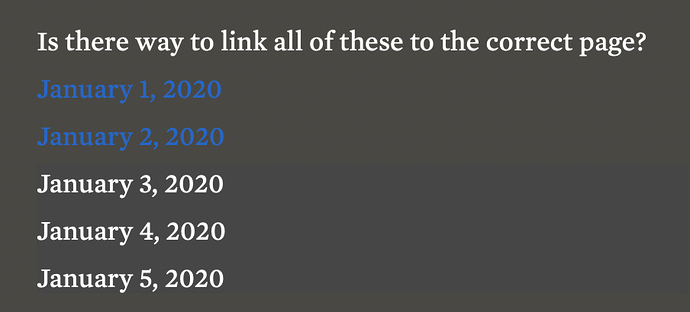 Is there a way to automatically link all of the pages together on a 2020 "index" page? I tried to copy/paste wikilinks, but it didn't work.
[[January 3, 2020]]
[[January 4, 2020]]
[[January 5, 2020]]

Question #3: How do you create an agent to find all of the notes withn ranges?
For example, find all notes within 30 days in the past AND 30 days in the future?
Thanks for any thoughts!