Hi all,
I'm new here and have questions

But first some background:
Expectation setting:
Not a programmer but can fiddle with scripts.
High level(ish) of what I think I want and why I want it:
Every time I record some chunk of data that gets thrown at me from life, I often find that it contains information that needs to be stored in different applications.
For example: Recent visit to the Eye Hospital with my daughter results in stuff like referral letter, results of examination, date of next appointment at the clinic and a task to make an appointment with the local eye doctor.
So, I ask myself, do I try and store this in Devonthink, Omnifocus, or Mac OS Calendar?
Devonthink I love for the referral letter, and results letter and can tag them appropriately

Omnifocus can take the task to make the new appointment

The next Eye Hospital appointment can be entered into Calendar
Now a couple of things that I'm not happy with. I don't find the calendar app 100% safe for important appointments because the calendar is shared and it isn't easy to track who has changed what, especially if it is inadvertent. So I would always like to have the important appointments stored somewhere as a master copy.
Also, and perhaps most importantly, I don't get a visual picture of how all the bits of information are connected.
Hence Tinderbox

I have been playing around with Tinderbox, watched some of the excellent videos and looked through the forum. This has helped me begin to connect my information visually with the map view. Have used task and event prototypes, used agents to scan and report appointments which is all lovely. Nothing is finished yet (is it ever) but I'm making progress.
Here is a work in progress version the map which helps me see the big picture of my daughter's treatment: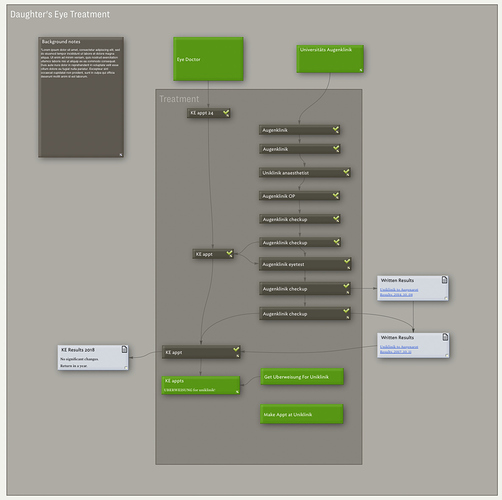 A few notes/observations:
Results letters are stored in Devonthink but are linked to in the relevant Tinderbox note which is great.
Tasks I can make do with copying manually to Omnifocus where necessary or working directly out of Tinderbox (I've read the thread about using Tinderbox with external task planners).
The appointments though are the weak point. I have to make sure I manually duplicate (aargh!) them in Calendar (see safety concern above) to remind me when they are due and to help plan out the more short term stuff that never makes it into Tinderbox.
I don't have Tinderbox with me all the time but the Calendar and Omnifocus I do.
Now, what, after all that preamble am I asking?

I was wondering if anyone has managed to, say, have an agent running that collects all the events in a tbx file and somehow exports them to an ics file that can be subscribed to in Calendar apps?
This way, I would have one place to enter the important stuff and I can even lock the event in Tinderbox which makes me feel all warm and cosy.
Any ideas? Any comments on the idea, however critical would be appreciated.
Thanks in advance,
Jeremy