Hi,
I've searched, but haven't found this being requested previously (or that it is possible in the current version…).
Request: It would be useful to be able to name each window in a TBX file so that they can be identified easily (both in the Window menus, and for programmatic selection – either in TBX or via third party tools such as Keyboard Maestro).
Failing that, please could each window beyond the first created be prefixed with a number so that shortcuts can be allocated to them and/or they can be easily distinguished in the Window menu?
Rationale: I use separate windows quite a lot, because I often want to see various views on the same data at the same time. Even on a smaller screen I find it more convenient to cmd-backtick through windows then trying to navigate between tabs.
There are two downsides to this approach:
The focus on a note persists across windows, rather than being specific to each window. (I know this has been raised before, but the ability to have a different note focused in each window is one of the features I still miss from TBX 5 after all these years, despite all the massive improvements that have happened since.)

If you have more than a couple of complex windows open then it can be a little confusing knowing which to switch to – you end up having to scan the tabs to see which is which.
For example, the TBX file I have open now has five windows:
A 'data window' with four tabs open – one per main container

An 'admin` window with four tabs open – one per Prototypes, Templates, Functions, Agents.

A 'dashboard' map window.

Two Text Windows for templates I'm working on to get round the problem I mentioned above of windows sharing the same focus.
The text windows get a name, which is good, but they are transient, while the three main windows (which are always open) all have the same name: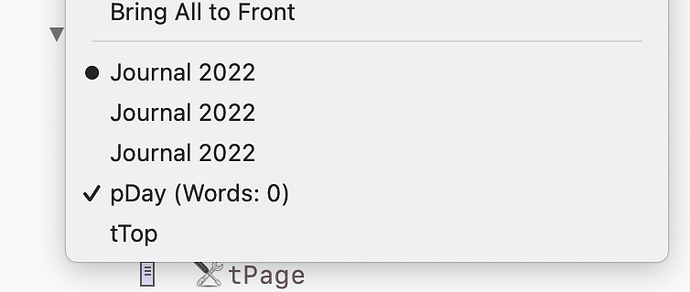 If I could name the windows ('Data', 'Admin', 'Dashboard') – or even if they were named 1:Journal 2022, 2:Journal etc – which would be reflected in the Windows menu, then I could use a Keyboard Maestro palette to select each window simply, rather than cycling through all five. Or I could just use the mouse (shudder) and select it from the Window menu…
Obviously, this is not a major problem – and I've probably spent too much time describing it – but I would find it a helpful addition. I have no idea how much development it would take, which of course is a very important consideration, but as an optional feature, I don't think it would disadvantage users who don't have the same workflow.
Thanks for listening…