I am trying to use Tinderbox to capture ideas I then want to export in a tabular format, ideally as pdf.
The tabular format is
Top line - Context: a model and a metaphor
Middle line - Concepts: a series of A/B statements (like a title and subtitle) that relate to the model
Bottom line - Content: stats and stories
I imagine that I could paste an image into a note for the Model, have another note for the Metaphor.
The same would apply for the bottom line: a note with a bunch of references and another with a story or two.
It is the middle line that is causing me design issues. Do I have one note with all the A/B statements in the text field or have multiple notes? Do I nest the notes under a model, or link to both model and metaphor? A map view could look like this.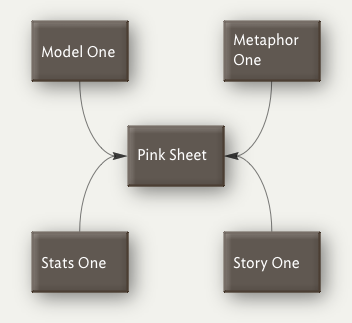 Or, do I put everything into a table in a single note?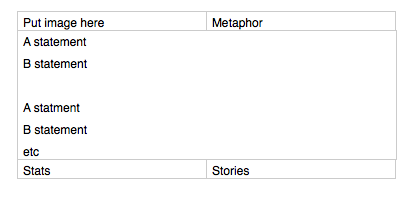 How, then, do I export into a tabular form that I can then upload as a pdf?
Or, always possible, am I trying to do something with Tinderbox it was not designed to do?
Thanks in advance.