Good afternoon. Today's question is about the NL scanning feature! I really love it. I believe I can probably add names to the NLNames note, places to the NLPlaces one and so on to definitely (eventually) grab and place everything where I want. If this assumption is wrong, please tell me!
Now: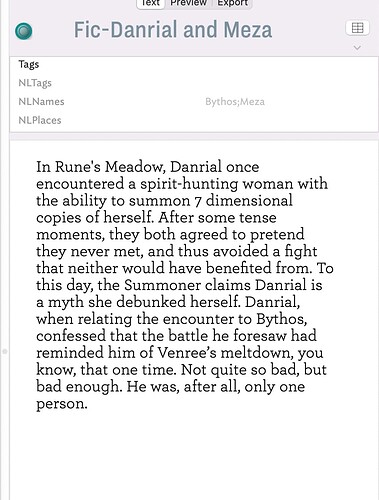 What I'd like to know is… how it works. My inital assumption was that it was scanning the text and looking for words either used like People Names, or Place Names, homing in on the ones it recognized. In the screencap above, I figured it skipped Venree and Danrial because I made those names up although it did grab Venree from another note successfully. That's probably fine as long as adding something to NLNames helps it (again eventually) recognize those are meant to be names.
However, my assumptions are all shaken because, you see how it lists 'Bythos' and 'Meza' in the NLNames attribute above? 'Meza' is the contents of the Full Name attribute on the character note titled 'The Summoner'. This suggests it's… reading and learning from my notes? Or…? But not at all reliable, since again, it only sometimes recognizes Venree (and Danrial not at all) despite those names being in the Full Name attribute of their Character notes. Are there any tips for making it more reliable when pulling data from other notes?
Bonus question: is the NL scanning case sensitive? Can I add 'Society' to NLOrganizations and trust it will not gather up references to ordinary society?
ETA: I see that Meza is the very title I assigned which I suppose could explain it except I did see in earlier forum posts it didn't scan note titles for keywords? Very confusing. I'll experiment more.