May be old news to many of you, but I just found out, Hookmark (new name for Hook) now has deep links to Kindle, Skim, Devon, Safari, Curio and of course Tinderbox. Zotero is also a link supported app with a plugin but I am not sure if it is deeply linked like the others. For me anyway, these are my core apps for reading kindle books, PDF's and of course using Devon. This process is very seamless for me. Hookmark automagically lets me know if something is linked to a Tinderbox note just by looking at its icon in the Toolbar. Pretty slick.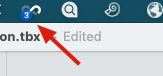 This, new discovery, is causing a change in my reading workflow. I can now comfortably, read and annotate in native apps like Kindle (mac), Skim and Devon then take my Tinderbox reading notes in Tinderbox and use Hookmark to glue them together into one mega "what is this linked to" app across a broad range of apps including Tinderbox. In the past, HookMark had not really stuck, but now, with broader support for apps that I regularly use, it is making a lot of sense and is very helpful to me.
Prior to this, my reading in Kindle felt too locked in, but with HookMark and kindle, it feels much more integrated with my notes.
My reading workflow is still a work in progress but my greater use of Hookmark with Tinderbox has made it more seamless and integrated into my daily reading workflow.
Just wanted to share my new "aha" this morning.