I've just started several weeks ago with Tinderbox and have discovered a new world of functions between ideas and text which is helping me a lot in my work.
This post builds on a previous post and discussion found under http://forum.eastgate.com/t/link-title-not-link-type/1195/3 which focuses on a particular users wish to label the links independently from link type. The discussion that follows show that this (over time) is essentially akin to treating links as notes of their own with attributes etc… and many associated challenges to display the information.
I have a similar challenge in that I would like to show (and be able to set programmatically based on for instance note attributes) the strength of a relationship between particular notes. I include an example of what I mean below.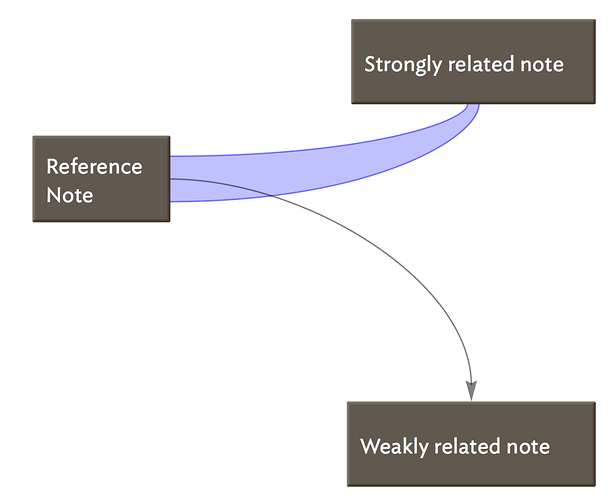 Ideally line thickness or colour scale could be set to illustrate how strong the relationship is and quickly provide a graphical view of the relationship strengths between notes. This has deep implications regarding how you treat links conceptually as I've found out.
If there are other ways of showing how strong the link between two notes is in Tinderbox I would love to hear about them.
To provide a little applications context my field of expertise is satellite mission design at the European Space Agency. What I'm trying to do with TB is to assemble and structure all the - sometimes conflicting or imprecise - user requirements from one community concerned with applications and science, and translate these into guidelines regarding the design of a future mission. For some applications (for example sea ice mapping from space) the link to a particular mission design parameter such as resolution is strong and a design driver, for others is much weaker. In essence I'm trying to capture this is the best way possible with TB.