TB 9 brings with it new capabilities for taking notes in Markdown. I understand how to write Markdown text in a single note and render it (thanks for instance to @satikusala's new video and other postings). What I've not yet understood is how to map a TB structure with containers each holding notes in markdown format to a complete document.
As an example consider the following example file structure.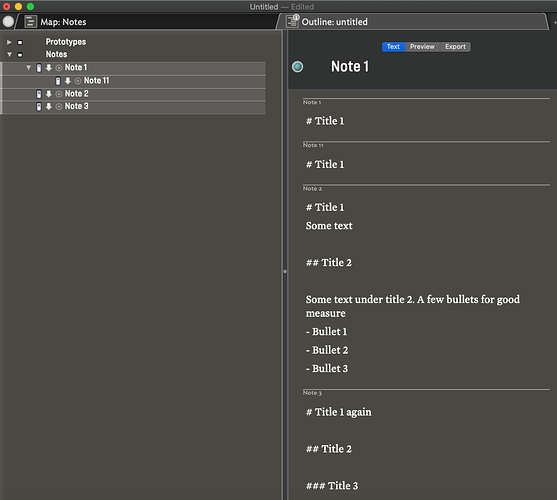 You see that Notes 1, 11, 2 and 3 all contain a mixture of Level-1 headings ( a single #), Level-2 headings ( two ##'s) + some text. I would like to see the structure of the TB document reflected in the embedding of the titles. For instance the Note 11 which includes # Title 1 should actually be rendered as ## Title 1 in the export because Note 11 is a child of container of Note 1.
Another approach that I was looking for but have not found is to use each note $Name as the heading with the embedding in the TB file determining the heading level e.g. top level container Heading 1, children Heading 2 and any headings within $Text given one heading level less than the note name.
Not sure whether I'm making sense to others. I believe there is something similar for HTML export where each children note has a heading level one less than the container.