Hello, the Checkboxes entry of aTbRef says (and shows) that "when ticked, the tick character within the box is drawn in the note's $Color."
By changing the "Interior" color of the note with the appearance browser in version 8.2.3 (b426), I can indeed change the title and icon color. However, for the life of me, I can't get the tick color to be anything but red (in any color scheme, light mode, or dark mode):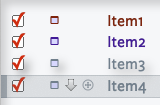 Can anyone point me in the right direction?
Thank you!!