I nicked a trick from Michael Becker's @satikusala recent video which has an edict to automatically sum up the run time of scenes in a group and display it as a $DisplayExpression. However, when I run it in my TBX file, it does not display correctly, and I have no idea why.
What I am using this for is a course outline where I deliver lectures taped on video (b/c of the pandemic), and I want to keep track of the duration. So every video has a $Dauer (= duration in German) attribute, and the lecture (the $Name of which is the date on which it is uploaded) has an attribute $GesamtDauer (= overall duration) that sums up the duration of the three videos I create each week.
I run an edict which is taken verbatim from Michael's code (except the changed variable names):
$GesamtDauer=sum(children,$Dauer);
$DisplayExpression=$Name+" - Gesamtdauer: "+$GesamtDauer;
However, in Outline view what I get is an incomplete version of the result:



although both the $GesamtDauer attribute and the $DisplayExpression attribute are correctly set: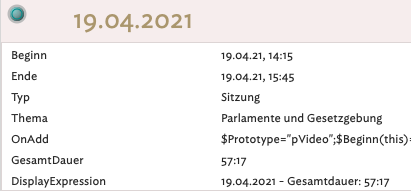 Basically, the $DisplayExpression cuts out a part, shortens its content to "19.04.2021-17" (instead of "19.04.2021 - Gesamtdauer: 57:17") and displays only the last two figures rather than the full value of the attribute.
Any idea why this could be? I have no idea.
Thanks for any help!