FollowTheLinks.tbx (104.9 KB) I find linking in TB very useful for connecting notes/concepts across the note hierarchy. TB also offers tools (action codes) to retrieve notes connected 1 link away from the note of interest. I'm wondering how to extend this idea to N links. In my work N is usually quite small e.g. 2 or 3 but the idea can be generalised and is often used in graph theory.
Here an illustrative example close to my work at the space agency. You see three areas identified by Adornments: Application, Information that can be retrieved through Earth Observation Satellites and two basic satellite types (radar and optical).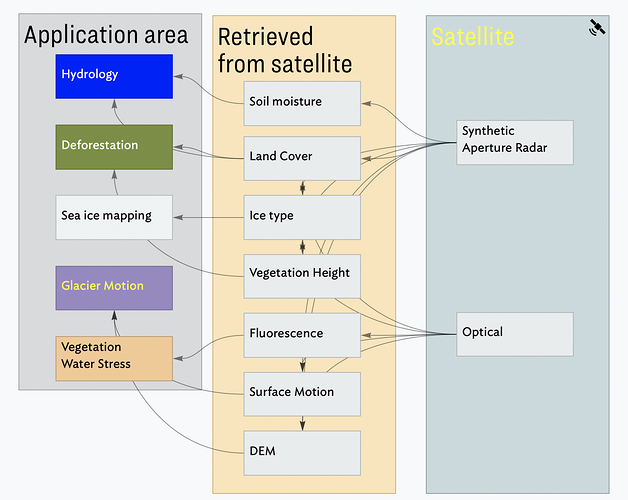 You can see that the application is linked to information needs (to be provided by a satellite) which in turn is linked to a satellite type. For instance, to detect and measure deforestation requires information about land cover and vegetation height. Land cover can be provided by both Optical and Radar satellites. Vegetation height on the other hand requires Radar.
What I would like to do is retrieve all applications supported by a given satellite (say SAR or optical) by retrieving all notes two links away (the application notes). Possible ?