Here is a first draft of a Keyboard Maestro macro which searches for matching notes in any .tbx files in a given list of folders and/or specific file-paths.
Ver 0.01 (zipped)
xQuery over multiple Tinderbox files.kmmacros.zip (16.6 KB)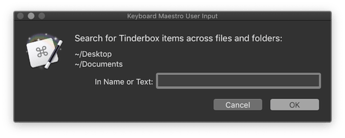 This version just gets a search pattern from a user prompt, and searches for matching text (plain strings or regex) in the $Name and $Text values of every note in every specified .tbx file.
(We could use the same XQuery-based approach to define search predicates over other attribute values etc)
Any matching notes are listed, with Markdown links (both tinderbox:// and hook:// URLs) back to those notes.
The listing is copied to the clipboard.
To use the Macro:
Edit the value of its tbxFoldersAndOrFilePaths variable, listing the folders and or specific .tbx files which you wish to include in searches
Assign a hotkey to the macro and experiment.