I wonder if any of you have attempted anything like this, and have some insight you can share. My scenario is related to my earlier post on Life, Time, and Task Management, but my question here is different. So, I created a new thread to distinguish them. Though I might use the word "template" below, I think that I mean something different than the "call for starter templates" and something different than the TBman "means" when it discusses "templates" in the context of export templates. In this case, by "template" I mean something more like e prototype. However, I'm not sure if merely creating a prototype will address this challenge. So, here goes.
I've attached a Numbers sheet that I've made a template in Numbers. It's a "Depression Checklist,"(handling 2020's stress, etc.) an assessment that I want to be able to retake periodically and save the data from each instance (i.e. I think a prototype could do this). I, then, though, want to build a dashboard, leveraging this cumulative assessment data and displays various KPI and trends over time. Then, I could use Tinderbox's other powerful tools to reflect on life on any day I take the assessment, etc. So, my questions are: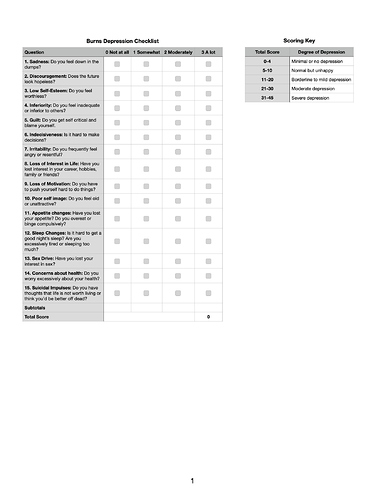 Once you see the Numbers file, could I build something like this inside of a Tinderbox prototype, and do so in such a way that I could create a dashboard displaying various datapoint?

If it's possible to do this in a Tinderbox "Assessment" or "Checklist" prototype, could it be as "simple" as creating a table inside of the prototype's text field?
2.a. Is there a way for a Tinderbox dashboard to read data stored in individual rows and fields of a text based table displayed within a note's text field?

Or, for Tinderbox to identify data distinct to each question, would I need to create a "Question" prototype and create separate notes for each question in the assessment? (I'm hoping this is not the answer.)
3.a. If this is the answer, is there a way to do it so that I don't have to literally trigger prototypes of every question each time I want to retake an assessment?
Thank you for your input! You all have a great day,