Tinderbox Meetup April 9, 2023 Video
| | |
| --- | --- |
| Level | Intermediate |
| Published Date | 4/9/23 |
| Type | Meetup |
| Tags | 5Cs, 5Cs Learning and Knowledge Management, Action Code, Attribute Browser View, Attributes, Chart View, Crosstabs View, Export Code, Hyperbolic View, Map View, Outline View, Timeline View |
| Video Length | 01:38:04 |
| Example File | View demo 9 Apr 2023.tbx (102.4 KB) TBX L - Analyze Tags with Crosstabs and Attribute Browser.tbx (160.0 KB) |
| Chat | meeting_saved_chat.txt.zip (2.8 KB) |
| Video URL | Tinderbox Meetup April 9, 2023 Video - YouTube |
| TBX Version | 9.5 |
| Facilitator | Michael Becker |
In this Tinderbox session, we started by briefly discussing exporting and difference checking in Tinderbox. Becker then jumped in and provided a detailed review of using atomic notes to proxy to notes, the flowing got data across these notes, and then how he is generating quantitative analytics with action code. We concluded the session with Mark Bernstein, Mark Anderson, and Becker reviewing Tinderbox views.
Export to HTML, Getting an Extraneous Folder
Dave Rogers has a question about extraneous folders being created on export and why some notes may not be exported.
Checking difference in TBX files
Run agent for $Modified or $Created to see notes that have changed
Consider using Kaleidoscope to do a Diff between Tinderbox files
Apple Script
Dave has a shell issue
Becker trying to email from Tinderbox
Becker Demonstrates Proxy Notes and Qualitative Analysis in TBX
Becker reviewed organizations' speakers for an event and those for normalizing and quantifying the seniority of the speakers as well as other stats.
Bernstein Demonstrates TBX View
Mark Anderson, Mark Bernstein, and Michael Becker demonstrate immature and mature TBX docs uses of different views.
Map View
Outline View
Chart View, e.g., can create horizontal vs. vertical charts
Timeline
Treemap
Attribute Browser
Hyperbolic View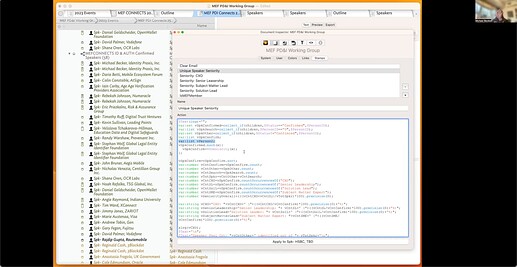 Resources
Please comment
Please help with the development of future sessions by answering the three questions below.
What were your top 2~3 key takeaways from this lesson?
What do you want to learn next? Learn more about?
What exercises would help reinforce your learning?