Tinderbox Meetup February 12, 2023 Video
| | |
| --- | --- |
| Level | Intermediate |
| Published Date | 2/12/23 |
| Revision | 1 |
| Type | Meetup |
| Tags | 5CKMEl, 5Cs of Knowledge Management and Exchange, Action Code, Agents, Artivicial Intellifence, Attribute Brwoser, Collect, Column View, DevonThink, Discovery, Documentation, Export, HTML, Knowledge Management, Note Organization, Note-Taking, Protypte, Quickstamp, Recursion, Screenwriting, Tables, Taggers, Templates, The Machine Stops, Thinking, Tinderbox, W3 Schools |
| Video Length | 01:35:21 |
| Video URL | Tinderbox Meetup February 12, 2023 - YouTube |
| Example File | TBX L - Meetup 12FEB23 Building Tables StorytellingR1.tbx (365.7 KB) |
| TBX Version | 9.5 |
| Instructor | Michael Becker |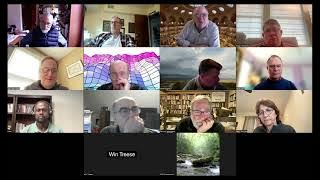 In this meetup, we discuss several topics:
@eastgate's investigation, Mark is working on strategies for packaging bits of functionality to make it easy to copy and paste this functionality between Tinderbox files
*The difference between Tinderbox and Devonthink, i.e., strategies for thinking and output production vs. managing the collection of your knowledge assets. The group went around this ideas for a bit, which lead to the introduction of key and new terms like Federverse, Federated Repository, Literate programming, etc. We also explored the different levels of understanding we all have about the infrastructure and tools we use, which raises questions about how deep do we need to go and when?
Scriptwriting, @fidel explored his desire to leverage Tinderbox to help him to create a repository of stories, characters, character arcs, character archetypes, and character roles that he can use to enhance and nuance his work. This discussion was triggered by this forum post .
Rendering knowledge and creating tables, riffing off of @fidel's post @satikusala provided a review of how to render a table pasted into the RTF later of a note's $Text. Topics explored include the creation of resource notes, thinking in Tinderbox, and producing output. We explored several Tinderbox capabilities and tools, including (not in order of sequence or priority):

Notes and note organization
Taggers
Attributes (system and user-generated, attribute types)
Prototypes
Quickstamp
Column View
Attribute Browser
collect() operator
Export templates, i.e., methods for producing HTML tables
Template recursion with include()
Inspector
Sort
Agents for search and to support report output
Badges
Inheritance
Repopulating attributes to create a dropdown to help with consistency and repurposing
Ease to which you can refine your approach and thinking, fix mistakes
Referenced Material
Cardwell, W. J. (2019). Storyforms: Manipulating readers with themes. Amazon.com
Forster, E. M. (1909). The Machine Stops. The Oxford and Cambridge Review.
Meetup Chat:
chat.txt (2.8 KB)
Please comment
Please help with the development of future sessions by answering the three questions below.
What were your top 2~3 key takeaways from this lesson?
What do you want to learn next? Learn more about?
What exercises would help reinforce your learning?