Tinderbox Meetup February 18, 2023 Video
| | |
| --- | --- |
| Level | Intermediate |
| Published Date | 2/18/23 |
| Type | Meetup |
| Tags | 5Cs Knowledge Management, Attributes, Boarders, Border Bevel, Border Color, Border Dash, Command Line, Demos, Linking, Maps, Migration, Note Naming, Transfer, Watch Folder |
| Video Length | 01:52:18 |
| Video URL | Tinderbox Meetup February 18, 2023 Video - YouTube |
| Example File | 1) TBX L - Adjusting Boarders.tbx (119.7 KB), 2) TBX L - Linking Demo.tbx (198.0 KB), 3) map-switch-v1.tbx (197.0 KB), 4) TBX L - Copy Text from Text File.tbx (260.9 KB) |
| Session Chat | TBX Meetup 18FEB23 chat.txt (7.4 KB) |
| TBX Version | 9.5 |
| Instructor | Michael Becker |
Agenda
Introductions
Agenda Settings
Agenda topics

Strategy and demo for moving notes from one TBX file to another to another
Manage visual of note board: width, color, dash, bevel
Flags
Demo: Dynamically changing maps with stamp and function
Demo: Using Command Line to Pull Test into $Text from a Text File
Making meaning from links: visual links, link types, link operations, transferring data between notes, creating and linking notes

Quotes of the Day
Resources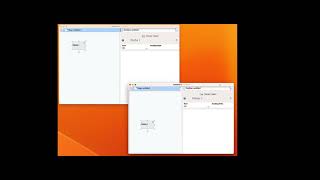 Future Topics to Cover
More on linking
Constructing and working with queries
Writing function to determine with attributes associated with a note have a value, need method for pulling all system attributes, and review of existing method for pulling user generated attributes G
Review of Apple Script to export notes from Drafts to a TBX Inbox, see Tinderbox Training Video 63- Export Drafts Note to Tinderbox
Strategy and demo for moving notes from one TBX file to another to another
We briefly discussed strategies for copying notes between Tinderbox files and how to make sure that attributes that have values can get carried into other TBX files, i.e., when the destination TBX file in question does not have the same attributes.
Beyond attribute value, other things to remember are associated prototypes, rules, edits, linked notes, and functions associated with a note.
Manage visual of note board: width, color, dash, bevel
We discussed how to create visual affordances with border attributes, e.g,
$Border=10;
$BorderColor="red";
$BorderBevel="raised";
$BorderDash=2;

References
Flags
We briefly discussed flags and the new capabilities being introduced in the next TBX release.
Demo: Dynamically changing maps with stamp and function
@mwra demoted a map switcher stamp, i.e., the ability to use a stamp and function to dynamically change the visual elements of a map view.
Demo: Using Command Line to Pull Test into $Text from a Text File
@satikusala demo'ed @mwra's script to pull text from a .txt file by leveraging the command line.
Making meaning from links: visual links, link types, link operations, transferring data between notes, creating and linking notes
@satikusala provided an overview of links within TBX. We discussed the distinction between a wiki/web hyperlink versus a hypertext linkbase method of hyperlinking (TBX being one of the only solutions that adheres to the later method, i.e., relies on linkbases and link anchors). We discussed the nature of a link, link operations (e.g., text links, parking lot, zip links, manual linking in map view and outline view, automated linking with action code). We also reviewed the use of action code and linkType to have attribute values pass back and forth between notes. On this later point, @satikusala provided a practical example of pulling email address from source notes into other notes. He then demonstrated a command line script to copy these emails to the clipboard with the command line so that he can easily send out emails. Also, demonstrated here was the leverage of templates for reports and export code to publish to LMS systems.
Quote of the day
"not being unencumbered with knowledge"
"what's in a name, a lot; naming is hard work."
Resources:
[davideddy]: A reference from David Eddy
Please comment
Please help with the development of future sessions by answering the three questions below.
What were your top 2~3 key takeaways from this lesson?
What do you want to learn next? Learn more about?
What exercises would help reinforce your learning?