Tinderbox Training Video 63- Export Drafts Note to Tinderbox
| | |
| --- | --- |
| Level | Intermediate |
| Published Date | 12/22/21 |
| Revision | 2 |
| Acknowledgement | @midas0441 wrote the base Apple Script and @webline has done a tone to refine it |
| Revision History | 23DEC12: Added 30 sec to video that was cut off, made note about Tinderbox 8 support |
| Type | Now To |
| Tags | 4Cs of Knowledge Management and Exchange, 5CKMEl, Apple Script, Drafts App, Tinderbox, aTbRef |
| Video Length | 13:20 |
| Video URL | https://youtu.be/WThZmPPMx3s |
| Example File | TBX L - Export Drafts Note to Tinderbox.tbx (130.6 KB) |
| | |
| TBX Version | 8.9+* |
| Instructor | Michael Becker |
In this lesson, I explain how to export notes crated in Drafts to Tinderbox. I demonstrate the process and explain how to set up the export action in Drafts. I also explain how to edit the attributes statements in the Apple Script within Drafts to suit your own purposes. For example, I show how you can apply your own prototypes to the exported notes, or change the mapping of the Drafts URI to whatever URL attribute you want. Finally, I demonstrate how note writing in markdown in Drafts works perfectly in Tinderbox.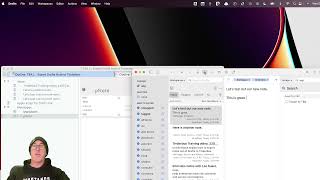 Note for Tinderbox 8 Users
*Note: If you are still using Tinderbox 8 this process will work, however, you'll want to change the app reference that the Apple Script in Drafts is calling. You'll want to edit the tell application "Tinderbox 9" reference, change the 9 to an 8.