Tinderbox Meetup - Sunday May 7, 2023 Video: A Discussion with Sönke Ahrens live, the author of How to Take Smart Notes
In this session, Sönke Ahrens, the author of How to Take Smart Notes, joined us for a lively discussion. This was a lively discussion on how writing is thinking and the role of note-taking; it is NOT a discussion about any other particular tool or method, but rather a general approach to generating value for yourself through note-taking. The community provides tons of useful references and resources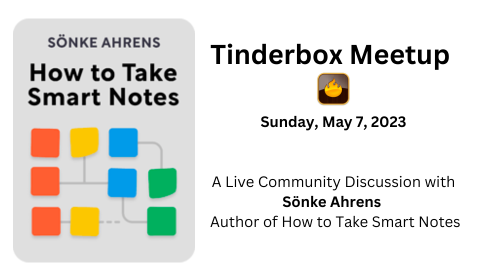 Agenda
Have a chat with Sönke Ahrens
Taking Notes From Readings
If you read something and don't take the proper notes, thank you're wasting your time. Taking a good note is putting it in your own words, to put discipline in yourself.
First, realize that not all source material warrants the same attention. Don't treat is all the same. The art is knowing how much effort to dedicate to a piece.
When the material is new, you try to understand, so you may use "fleeting notes," "literature notes," and "commentary notes," which you then may convert to "permanent notes" if needed
Your goal is to frame the arguments being made, summarize the perspective
With unfamiliar text, you'll take literature notes, with familiar text you'll just grab what you need to support/contradict your argumentt
Sometimes writing by hand helps, it slows you down, which is good for thinking; it also helps you be clearer but also less forgiving with errors (as the errors are not as easy to fix as they are with digital).
How does one avoid overwhelm? [Fidel] Asn: It is a problem. When you feel that you are overwhelmed, create a concept note; try to reduce the complexity again.
Question to ask yourself

how is this related to my work?
how is this important?
what is the counter-argument?
On Teaching Thinking
We don't teach this in school very well, but we need to teach students,
how do they develop their own thoughts
Ask and quasar their own questions
Be comfortable with "making up their own mind." They are the decision maker of what a note goes, how it is taken, and links; where or not something is the same idea, an extension of an idea, or new idea, or a contraction
the process of collecting, deconstructing, constructing, and reconstructing your thinking.
Concepts
Different kinds of notes

Fleeting/Quick note
Literature Note, e.g., " "I'm getting that literature notes are more about capturing your understanding than transcribing (?) the author's ideas." [Jorge Arango]
Development note
Commentary note
Prominent/Permanent/Fixed Note
Laboratory notes
Index notes
Concept Notes, notes that point you in different directions.
Entry notes, a top-down/bottom-up approach to align on concepts.
Note sequences

Extended mind is different than the second brain
The tools will be different for different studies

Different kinds of links agree, disagree, clarify, example, exception

Pen and paper work well with "note sequences"
Zettelkasten is a research tool/method
When something is new, everything feels/appears useful. -
The overwhelm occurs when you feel that you must close all loose ends. This is impossible. Don't try.
Thinking, ask a bunch of questions…how is the relevant to what I'm thinking about.
Incremental formalization (this was a new term for Sönke).
MAYA concept — go for the Most Advanced, Yet Acceptable solution.
Quotes/Paraphrased Comments
Qt- Writing was often talk as an afterthought for thinking, it should not be
Qt- You analog and digital aver different
Qt- The best solution is to leverage the power of the digital and use the analog as a background idea.
Qt- Literature notes tend to be commentary notes in Zettlekasten,
Qt- When I work with PKM tools I learn how my brain works much better.
Qt- The Zettelkasten method is not a tool that you can just pick up and apply; you need to learn the methods and adapt them to yourself. This adaption process helps you become more aware of your own thinking patterns and what you need from a note-taking system. You need to find what works for you.
Qt- "There's a tension between collection information and building understanding; the digital tools available to us often lead us to constant activity in collecting articles, books, clippings, etc. I hear Sönke reminding us to build into time into our workflow to curate this information into notes that create understanding and lead to expression" (Paul Christy)
Qt- I like the idea of multiple inboxes, e.g., using iPad to collect notes and then bring them to Tinderbox
Qt- We can fix the challenges of highlights if we treat them like "fleeting notes" Qt- Lumhamn noted, Zettelkasten is "my communication" partner
Qt- Everyone has the same problem, but we all have our own way of solving it.
Qt- We need to be more aware of our thinking and how we structure them, and what tools work for
Qt- You need be forced to think about thinking
Qt- New tools can help you figure out how you think
Qt- I write things down when I go beyond my current understanding; I don't focus on recording what I already know
Qt- Writing is about thinking on the borders of your understanding; if you are struggling that is, good, it means you are learning something new
References
Please comment
Please help with the development of future sessions by answering the three questions below.
What were your top 2~3 key takeaways from this lesson?
What do you want to learn next? Learn more about?
What exercises would help reinforce your learning?