Looking into purchasing Tinderbox this week and was wondering when the sale ends.
Not sure and this is a User-to-User forum, and on a Sunday. But on the Tinderbox home page, I see this: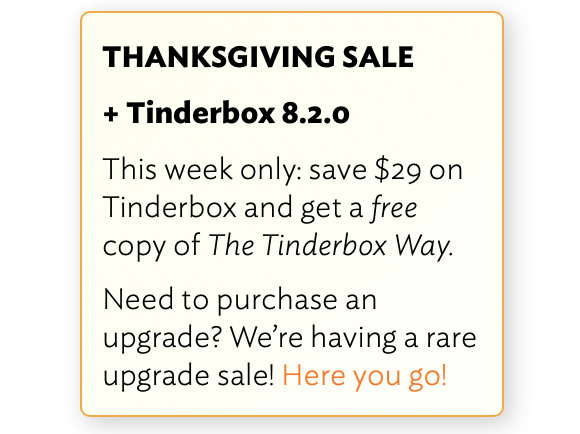 I guess it's still on. Whether the 'week' is the one ending or just starting. So, paging @eastgate.
Perfect! Thanks for the heads-up
Just made my purchase, just waiting for my license key to be emailed. Can't wait to start exploring!
When you have questions, do stop by.

hmm… wondering how long it takes to get you license key, I ordered last night.
It's a small outfit (US East Coast) that doesn't use an external storefront like esellerate, etc., doig processing. It was Sunday night last night (I know the internet never spleeps ) so my hunch you should have it today. You can always ping an email to Eastgate support just confirming the got the order.
HTH

Thanks Mark, I am so used to getting online license key's almost immediately. It's not a problem, the trial version is working fine.
PaulC
Great. Though the forum mod here, I'm just a volunteer and fellow user - and also 6 hours out of sync with Boston being over in the UK! I'm busy tomorrow (so not online early day) but I hope your licence is en route.
Quite right too! My parents frowned on spleeping and I do too!