[Split from Obsidian launches "properties" - #47 to avoid topic drift]
I tend to agree that what an outline is or rather, how outline functionality is effected in an app, is very subjective.
In Dave Winer's old outliners an outline item is a single short piece of plain text. In Tinderbox terms $Name only, short and with no styling. This explains why OPML that Winer (IIRC) also developed had no attribute for text ($Text in Tinderbox). It was Omni's OmniOutliner that added a non-standard _note attribute. So it is that most OPML I've seen is not strictly compliant with the OPML standard.
Those who never saw the pre-v6 UI won't know that Tinderbox follows the basic outline closely. In the old UI, the current view pane was a view window: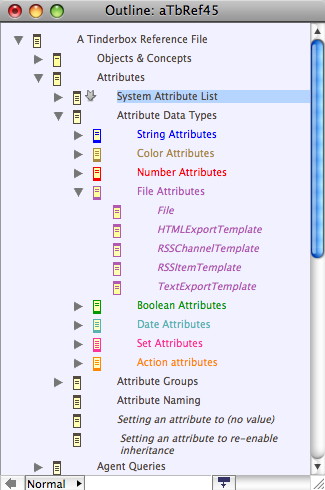 (from Tinderbox v4.5.0)
…whilst the current UI's text pane was at that time a separate 'text window' (closer to a current stand-alone text window):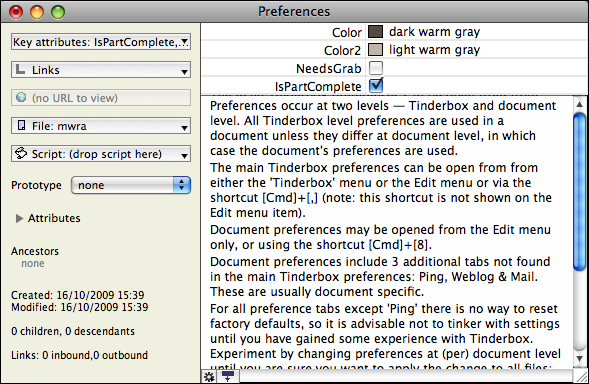 (from v5.0.0)
Even today, you can use a Tinderbox outline in the basic form as you can edit $Name in the view.
Bottom line, our perspectives on the 'correct' interpretation of what an outline is and/or the outline UX experience will differ. I think we tend to use the latter to assert, wrongly, the former. It matters not, given that there is no single truth, nor needs there be.
BTW, for those interested in outlines and outlining, check out @tedgoranson's wonderful "About This Particular Outliner" (aka 'APTO').
The vagaries of outlining given above stand as a good proxy for the wider case when comparing Tinderbox and OtherApp:
how do (named) features map, in terminology or function
if feature elsewhere why are they useful in Tinderbox (i.e. rather than " Tinderbox must add…"). In addressing such desires the dev has to consider:

what might the new feature break or disrupt (satisfying one user might break the app for many long term users)
how/where might it be added
is it worth the effort (ROI - engineering/maintenance might outweigh keeping up with the fad de jour)
is the suggestion sensible (a little thought often means adding a feature in a way that works even if not as described by those requesting it)
Personally, I tend to focus on inter-app process and optimising that. A one-app-does-all desire seems self-defeating.