At the Zoom Meetup: 2020-08-29 I shared a problem and I got some great advice that I'm going to try to implement.
Context
I'm teaching a new meditation class. I began planning for the class in map view. I created notes on a wide variety of topics which included possible talks, discussion questions, meditations, etc. As I saw the different types of notes emerging I create prototypes which would give the note color and an icon. I then created containers and started arranging the material. All of this helped me to ensure that each class was getting the right mix of everything.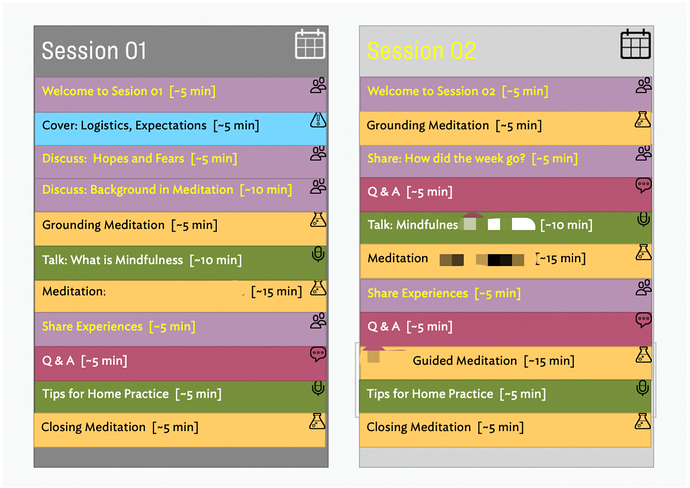 Problem
Although everything looked great in the map view, everything was scrambled in the outline view.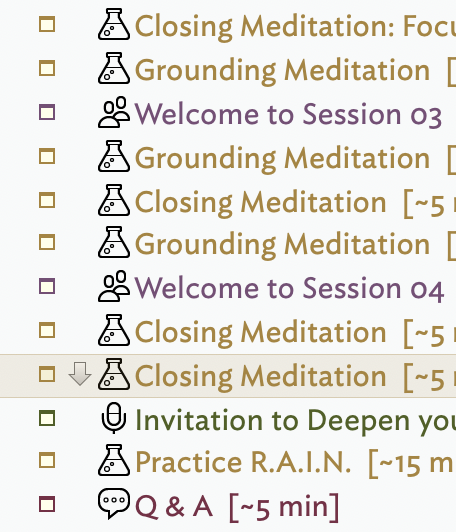 Solutions
You can see the video here at the 25 minute markof us trying to work through the problem.
Use agents
Create a new container
Add agents to find notes for each session
Sort those notes by position in the map
Use the Attribute Browser
Using the attribute browser we were able to see that some of the notes weren't given a session.
We were able to see notes that had no values
We then added session to the menu bar that made it easier to see the attributes of notes
Next Steps
I know how to implement "use agents" but I'm not sure if I know how to "sort by the position in the original map". I'll reply back to this post if I succeed or I'll ask a follow-up.
If anyone has any questions or suggestions, please let me know!