I am using Tinderbox to study the Wikipedia entry on the war between Russia and Ukraine. When I try to put the content of the entry, which has about 300,000 characters, into a Tinderbox note, the application becomes extremely slow and unresponsive, as if time has stopped. Tinderbox is in a state of slow, stopped, and stuck, and I can't do anything. I repeatedly close the Tinderbox application and reopen it, but once I click on the note, it falls into a time freeze again.
I have attached the content in a txt file for testing.
However, in Obsidian and Typora, they support 300,000 characters, although there might be some delay, it does not significantly affect the operation.
Does this mean that Tinderbox is not suitable for research with 300,000-character content? How do other people solve this problem? By breaking it down?
2021年—2022年俄乌危机 - 维基百科,自由的百科全书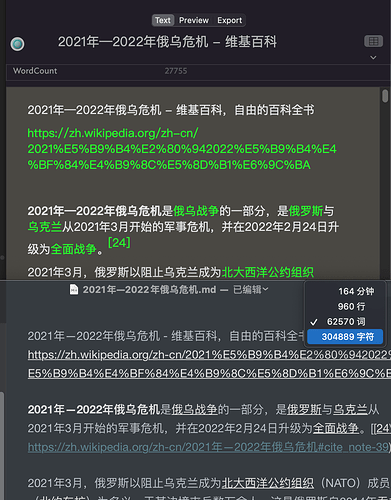 2021年—2022年俄乌危机.txt (389.6 KB)