Hi,
So I've been working lately with Tinderbox trying to adjust it to my needs/project, and what I ended up with could be described as an "extended" Hyperbolic view (unfortunately without Hyperbolic view controls as everything happens in the Map view

). Aliases collected by an agent called "Synthesis Query" get their original notes' links restored, so notes that are linked to the "focus" note (in my case it's a note with pQuestion $Prototype) can be easily traced. Compared with the Hyperbolic view, Map view of queried notes shows also links that don't create the shortest possible path to the "focus" note.
Some pics: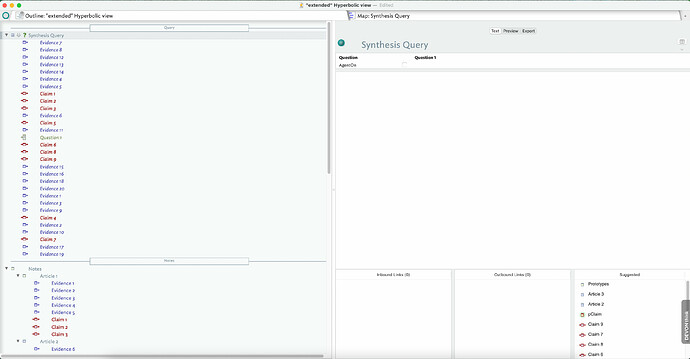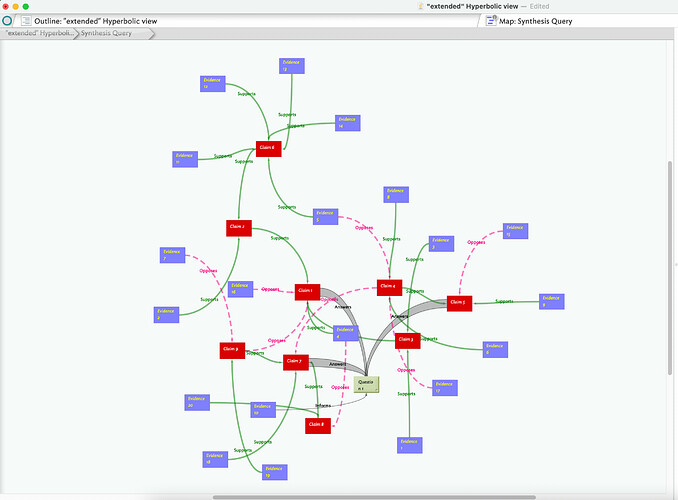 Yes, it does not look as clean as the Hyperbolic view, but this kind of view may be of use for some people. BTW after querying, it is a good idea to turn off Agent ($AgentOn==false) and then arrange aliases using "Dance" option.
Thanks @mwra for all your time spent helping TB users.
File: "extended" Hyperbolic view.tbx (196.4 KB)
Arek