@TomD summarized a key takeaway from the TBX Lesson: Tinderbox Meetup 28AUG22 - An End-to-End Overview of Contribution. Thanks, @TomD
Key takeaways
Tinderbox meets you where you are and pulls you into the present and beyond.
For many, investing time in learning Tinderbox feels like an expense–they are losing something, and it costs them something (time, money, ego, fear, pain)–rather than seeing it as an investment–the foundation for future, in some cases exponential, gains (time, money, skills, community, making a difference,…). The time I've put into Tinderbox is most certainly the latter.
When using Tinderbox, you are also learning the fundamentals of knowledge management and computing. You are learning:
Languages of computing and the Internet: HTML, CSS, markdown, command line, regex, JSON, Perl-like frameworks
Gaining knowledge of and the opportunity to explore complimentary tools and processes: BBEdit, Zotero, Devonthink, Pandoc, exciting, text expanding, search, image management, writing
Mental models: logic, design, structure, appearance, organization, metacognition, atomization, premature formalization, incremental formalization, vulnerability, context, history, problem-solving, inheritance; consistency, precision, storytelling, instruction, asset development, pattern matching; quite possibly the most critical learning,
Community: communication, socialization, the kindness of strangers (who quickly become friends, if you're open to it).
Frankly, the learning opportunities are endless.
Your September Challenge
Please, hit reply and share:
Your critical takeaways from using Tinderbox and participating in this community?
What do you want to learn to do or achieve with Tinderbox (@TomD suggests the tactics for knowledge discovery: "How do you find the nuggets in your file? The Attribute Browser?, Queries?, Using NLTags, Optimizing views, Pulling your discoveries out of attributes."
Bonus Points: Using a template, create a table from the value in your attributes
3. Create a TBX file with the following and upload it to this thread with an explanation of your approach.
a. three notes:
- September 2022 Challenge
- My Critical Takeaways (should be a child of September Challenge)
- What I Want to Learn (should be a child of September Challenge)
b. populate $MySet for each child note with your list of takeaways and areas of exploration
c. Create the templates necessary to, when applied to September Challenge, a table will appear in preview.
3. Include a note with your name and forum handle, add a bio about yourself (interests, etc.), this way we can keep track of who submitted what.
4. Include your forum handle in the file name, e.g. Satikusala_Spet 2022 Challenge.tbx`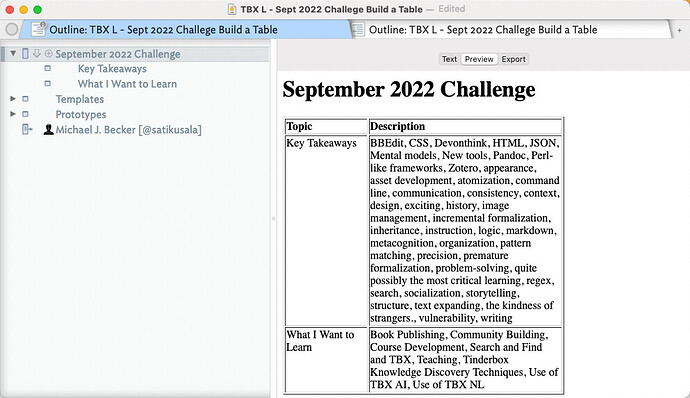 Note: I will post my example once the community has had a chance to post theirs