Tinderbox Training 65- Simple Markdown Template
In this lesson, I explain how to create a template in Tinderbox that renders notes in a markdown syntax rather than an HTML syntax. I also explain how to ensure that inline export code in your notes gets processed vs. not processed when you preview or export your text. Finally, I conclude this training by showing an advanced execution of the markdown template in one of my own files—i.e., a 250-page book I've written in Tinderbox in less than a month using the markdown training I share here as the foundation for my book.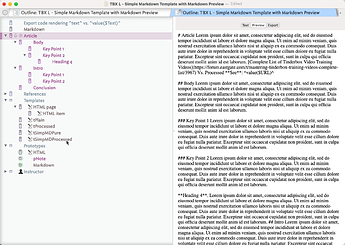 A special thanks to @philippecmartin for inspiring me to create this lesson.
You're Invited To Be My Patron:
A lot goes into creating these training videos. If you're getting value from these videos and are open to supporting my efforts, I respectfully ask that you consider becoming one of my patrons by making a monthly contribution.

Michael Becker is creating training materials and thought-leadership | Patreon