Tinderbox Training Video - A Strategy for Moving Notes Between TBX Files
In this lesson, I share my strategy for moving notes between Tinderbox files.
My goal with this lesson is to help you be comfortable with this process.
Moving notes between files is not just about simply copying your notes, it is also about ensuring your destination Tinderbox file has all the latest attributes, prototype designs, and action code you've created so that you'll be sure to keep your files fresh and won't lose any data (values in your attributes) as you copy notes between files.
I explain my two-step process for pulling in notes that have attributes that the destination file does not have. I also explain my process for how to pull a prototype that was refined in one Tinderbox file into another Tinderbox file and how to use an agent to update notes in the destination file with this new prototype's design, action code, etc.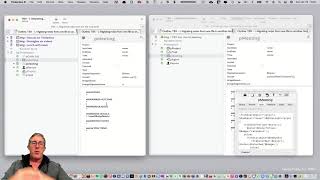 Reference Material
* aTbRef: A Tinderbox Reference File