TBX L - Dynamically create notes from attributes with functions
| | |
| --- | --- |
| Level | Advanced |
| Published Date | 12/13/21 |
| Revision | 4 |
| Revision notes | 1/2/22 R4: Update method for short title creation; R3 uses @webline's model for pulling in the value from the note's $Rule to process the value passed to the function (see below). We still need to work on this for the unliking process. |
| Acknowledgements | Much inspiration for this from Mark Anderson @mwra, @TomD, @Christoph, @Sherrell, @webline |
| Type | How To |
| Tags | 5Cs of Knowledge Management and Exchange, 5CKMEl, Action Code, Functions, Hints, Library, Linking, Templates, Tinderbox, aTbRef |
| Video Length | 29:24 |
| Video URL | https://youtu.be/H01w4lNXMuo |
| Example File | |
| TBX L - Dynamically create notes from attributes with functions R4.tbx (288.8 KB) | |
| | |
| TBX Version | 9.1 |
| Instructor | Michael Becker |
In this lesson, I explain how to use action code and the new library function in Tinderbox 9.1 to dynamically create notes, and link and unlink notes, based on the value you put into attributes. This process is useful when you're writing and want to associate throughout or relationships, e.g. a term, location, contact, event, related to the note you're working on and then later expand on that thought or relationship. For example, this process is perfect for capturing terms (aka keywords, tags) while you are writing. You can assign a term to your note, and then later define that term. This definition can be linked within your text, included in an index, and more.
There is a lot going on in this lesson. You'll need to spend time with the sample file to deconstruct all the elements, especially if Tinderbox fundamentals (aka prototypes, action code, templates) are not familiar to you. I explain:
Action Code
Library functions
RegEx
Linking
Templates and style sheets
Use of a config file
4 Cs of knowledge management: collection, curation, creation, contribution (I don't touch on the 5th C collaboration)
Simple hotkeys that I often use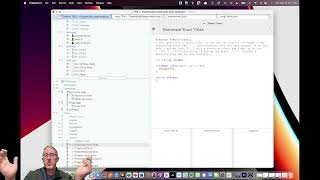 Complete video list
You'll find a Tinderbox reference file for this video on the Tinderbox Forum: Mastering Tinderbox: Training Videos (Complete List)
You're Invited To Be My Patron:
A lot goes into creating these training videos. If you're getting value from these videos and are open to supporting my efforts, I respectfully ask that you consider becoming one of my patrons by making a monthly contribution.

Michael Becker is creating training materials and thought-leadership | Patreon

An invitation to connect
Life is change. To meet the moment, I'm constantly on the lookout to understand what I should keep doing, stop doing, or do differently. I'm on a mission to understand the 5Cs of knowledge management (collection, curation, creation, and contribution) and for insights to balance The Identity Nexus—the intersection where equitable personal data & identity exchange happens. I'm looking to understand the personal data & identity marketplace—to track leading organizations, people, and resources (strategies, use cases, business models, standards, people's sentiments, etc.). I welcome the opportunity for industry collaboration. Let's connect on,
LinkedIn: https://www.linkedin.com/in/selfsovereignidentityprivacyshaman/
Twitter: https://twitter.com/privacyshaman